Buy-Sell Agreements
Let GoInsurancePAL be your guide to find the best
buy-sell agreements that work for you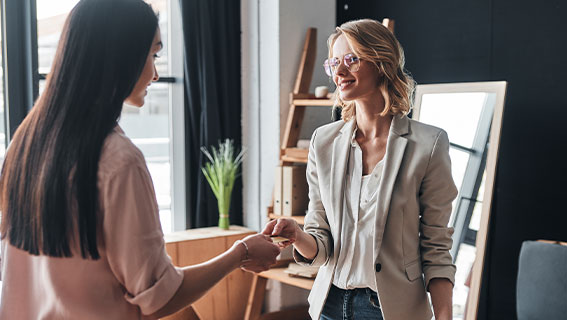 What is a buy-sell agreement?
A buy-sell agreement is between a business and its owners that is legally binding. The agreement clearly specifies how events such as death, divorce or a partner's exit from the business would affect the business's management and control.
We'll be your guide to easily find the buy-sell agreement that is perfect for your business
The experts at GoInsurancePAL will walk you through buy-sell Agreement options in easy to understand terms. We'll also discuss all the benefits of each. We'll even explain the best buy-sell Agreements available for you and we'll also explain the advantages and disadvantages of each of the agreements as they pertain to small businesses or partnerships. There are three types of buy-sell Agreements:
Wait-and-See Agreement –

A legal contract established between you and two or more prospective buyers of the business.

Purchase Agreement – Between the business and the business owners.

Cross-Purchase Agreement –

An agreement that is used by partners in a business where if one partner leaves, the continuing partners agree to purchase the leaving partner's interest in the business. 
How is my business protected with a Buy-Sell Agreement?
Buy Sell Agreement protect business that have partners or more than one owner in the case one of the owners dies or is otherwise unable to perform their duties. Rather than have family members who don't understand the business get involved, and possibly take down the business, the buy sell agreement buys out the family and provides funds for the remaining partners to hire a new partner or someone to take over the duties.  It avoids dragging a business through costly probate or legal proceedings.
Why is it necessary to have a Buy-Sell Agreement?
Buy sell agreements are necessary to protect the business in case on of the partners or owners dies or can't perform their duties. Even with the best of intentions, the loss of a partner can be devastating to a business.  Even worse is when the partner's ownership interest gets dragged through a probate process and family members start fighting over the ownership and value. The buy sell agreement eliminates these problems and provides the remaining partners with money replace the lost partner.
How will a partner's personal bankruptcy affect the business?
Personal bankruptcy laws vary from state to state.If a partner is having a personal bankruptcy their ownership interest is an asset to be considered in the bankruptcy proceedings. Buy sell agreements aren't used to this type of protection, but we do provide other insurance options that can protect the business from the personal bankruptcies of it's owners. 
Infinite Banking
With GoInsurancePAL, you can learn the comparison between Infinite Banking and a conventional savings account. Ask us how your assets can grow, what you need to get started, and if your money is safe. Our experts can answer all of your questions.
Why Choose GoInsurancePAL
We help you build the buy-sell agreement that
fits your business
Benefits of choosing GoInsurancePAL for your buy-sell agreement:
Qualified support when you need it.

Easy to speak with an expert regarding all types of agreements.

We will walk you through the agreements that best meet your needs.

We'll find the best agreement for your business.

Lower price.
"1-on1-approach" to helping both businesses and business partners understand each type of agreement and how each will be advantageous to your business.

Knowledgeable and professional Legal Shield Plan experts

We make Legal Shield plans simple to understand and benefit from

More than just insurance – we care about people
Let's Get You Protected
We'll find you the right insurance at the best price
This program works!
I contacted GoInsurancePAL as my cash and annuities were not growing at all where I previously had my money. GoInsurancePAL qualified me to start an infinite banking account, and without spending any of my cash value, I was able to take a tax- free policy loan and pay off both of my automobile loans, all of my credit card debt, and I was able to take a policy loan to pay some back taxes without spending any of my own money in my cash value or in my personal public bank accounts. This program works, and I recommend you contact GoInsurancePAL to help you like it did my family and me.
Additional guidelines and materials
Let's Get You Protected
We'll find you the right insurance at the best price
25 years
of protecting your loved ones
10,000+
satisfied clients